"Dogs are our link to paradise.
They don't know evil or jealousy or discontent.
To sit with a dog on a hillside on a
glorious afternoon is to be back in Eden,
where doing nothing was not boring...it was peace."
-Milan Kundera
---
"R" Little Pilgrims II
are scheduled to arrive in
The New World on Thanksgiving Day

---
At R-DALS we are anxiously awaiting the arrivial of "R" next litter
due around Thanksgiving Day. These "Little Pilgrims" will have an
exceptional pedigree and will be guaranteed for health and temperament.
Litter will also be BAER hearing tested.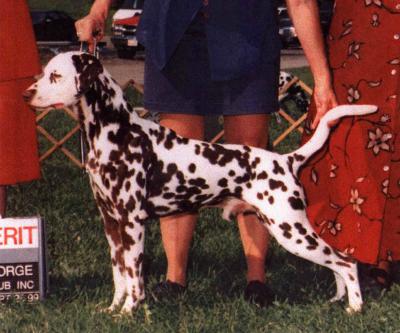 Sire CH. AMERA-N-CHESR'S COLOR ME BADD (L)(Johnny)



Dam CH. ALFREDRICH AD LIB R-DALS (Libbie)

Pet and Show Prospects (Liver and Black Spotted) will be available to
begin their adventures into The New World around mid-January 2001.
As a member of the Dalmatian Club of America
plans are to Futurity Nominate this special litter.

If you have an interest in R-DALS or would like additional information
please send us an email to rdals@hotmail.com

Or call Kathy Riddle at (330) 625-4008

R-DALS...Bred for Show Quality - Sold as Loving Pets

WE LOVE TO TALK ABOUT DALS!!

---
R Previous Litters